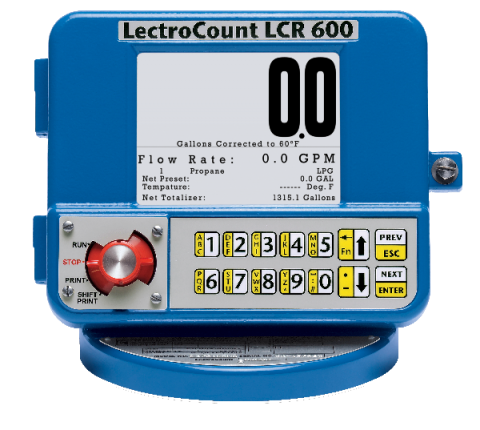 In the field configuration setup allows simultaneously volume tracking, flow rate, and many other key values during delivery
LectroCount™  LCR 600 Benefits
Automatically switches to XL 2" display during delivery mode
Standard display mode returns when delivery is paused or completed
Easy to read at a distance
Built in keypad for set-up, calibration and preset deliveries – no lap pad needed!
In the field configuration setup allows simultaneously volume tracking, flow rate, and many other key values during delivery
Quick setup and operation with intuitive navigation screens
Comprehensive diagnostic package
Compatible with a wide selection of positive displacement flowmeters
Build-in keypad for setup, calibration and preset deliveries
LectroCount™ LCR 600 with/ Point-of-Sale (POS) Benefits
Increase the number of daily deliveries by replacing handwritten tickets with printed priced and taxed tickets
Reduce human error and office work created by handwritten tickets
Reduce postage and invoices costs by printing POS tickets at delivery sites
Customize discounts and pricing for all types of customers—up to 100 programmable products
Add multiple products, pricing, and taxes to a single calibration (ex. diesel and dyed diesel) Serve different municipalities, states, and regions with complex tax structuring capability
Add additional service and product transactions on-site with the miscellaneous charges feature
Multi-point calibration for meters equipped with LectroCount™ Electronic Registration allows superior accuracy (linearity) as indicated above.
Power Requirements:
LectroCount® LCR 600:  +9 – 28VDC
Environmental:
Enclosure:  Class 1, Division 2, Group C&D design, Nema 4X
Operating Temp Range:  -40° to 158°F (-40° to 70°C)
Approvals:
US Weights & Measures:  LCR 600
Measurement Canada:  LCR 600
Output:
RS232/485
Printers:
Epson, Okidata and Blaster Models
Electrical:
Power:  +9 to 28VDC, 3A maximum (including solenoid valves)
Inputs:
Temperature input: 4-Wire Platinum RTD
Pulse Inputs:  +5 to 28 volt peak to peak, open collector, single channel or quadrature (12VDC or 24 VDC)
Additional Outputs:
Control Valve (2):  Open drain transistor for 2 stage valve control, 1A Max. per channel
Auxiliary (2):  Open drain transistor for general purpose auxiliary control.  Aux(1) 1A Max, Aux(2) 150mA Max
Scaled Pulse Output:  Open drain output, 1 A Max.